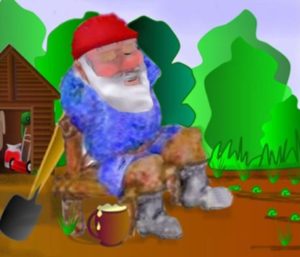 Well hello there me ole chums
I feel I've redressed the balance of power somewhat this week in favour of the working classes of which I feel myself to be a highly esteemed member.
So, what did I do? I can almost hear you wondering
Well I'll tell you me ole chums
I got an allotment. That's what I did.
Now for those of you who are not familiar with the term I'll explain;
It's quite a large plot of land that you can rent for the princely sum of £25.00 per year. You can't build a house on it but mine's got two and a half sheds and a rather fetching blue water butt and a most delightful array of plum and cherry trees. It's all a bit overgrown of course cos folks don't seem to want allotments anymore and they get left and spiral into decline. But that's half the fun cos you can just do a bit here and there and very very gradually bring it back to life.
Over the years, much of the countryside has been claimed, or taken, through successive battles and land claims.
Now all the common Gnome has left to own and grow produce on is allotments and yippee I've got one! .
So here I am sitting overlooking the rather wonderful little village of Long Itchington and planning a time when I can get all my little Pixie and Fairy friends to come and move into the Rhubarb and the hollyhocks.
OOOh Its gonna be such fun.
So Bye for now me ole chums.
Noggin