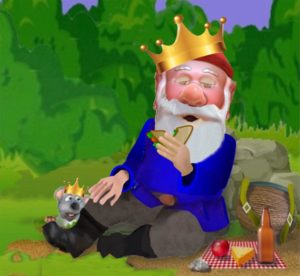 Well hello there me ole Chums
More today about my allotment – well at least about the land in England – and a little peek into history
Well, in ye bad old days those nasty Romans came and though they seem to be famous for their arches and straight roads I think they are more likely to be remembered for their naughty deeds, including stealing land from the people on a massive scale. They also built a wall to keep people out. Not very nice people I think you'll agree.
Then after those marauding Saxons and Vikings came William the Conk (Conqueror) who invaded old England and poked Harold in the eye and gave all the land away to his barons. Then Richard the third lost the battle of Bosworth and banged his head on the bridge over the river. His head was very sore so they named the river after him. (River Soar) All the land that these Plantaganets had pinched now got nicked by the terrible Tudors. Then fat Henry who was very naughty to many of his six wives (head choppings) and barbecued lots of archbishops, stole yet more land from the commoners and filled it full of sheep. Then King James lost his marbles, Charles lost his head and William stayed too long in the tanning suite and turned orange. (William of Orange) Then mad King George lost America and since he had no sat nav it took them a couple of centuries to find it again. Meanwhile, they compensated for their nonsense by enclosing the rest of the land and giving it to farmers. Now all the common people have left is allotments and yippee – as you know I've got one.
Funny the things you think about when you're resting in the sunshine, on your 'allocated plot'
I've weeded me borders and planted me rhubarb – now it's time for a welcome jug of good cheer, a sandwich, and a snooze. Feeling like me own sort of King thing.
So Bye for now me old Chums.
Noggin